A hot shower is what helps us relax at the end of a tiring day. For a lot of people, it is a favorite habit that helps them get away from the hustle of their day for a while. But how beneficial is this habit for our skin and hair?
In winter our skin is much more prone to dryness, dehydration and dullness. Something that we need to consider more seriously and maybe it is the first and most important step is… our shower.
So what is the ideal temperature for having a shower and taking care of our skin's and hair's health at the same time?
As with many things, ideal temperature lies somewhere in the middle. Experts recommend having a shower with lukewarm water. It is very important that we avoid extremely hot water because it might put the skin's moisture barrier which affects the look, feel and overall health of the skin, in danger. Especially in winter when the cold negatively affects our skin and hair making them dry, a hot shower burdens even more the damage, resulting in having languid and dehydrated hair and skin.
When it comes to hair, extremely hot water causes irritation and dehydration on the scalp, making them oily since it removes the good moisture of the scalp and makes it secrete even more sebum. In addition, because it opens the hair's scales without closing them, it makes it more fragile. If you also have dyed hair, it can even damage their color.
Why should you prefer lukewarm water in your shower?
It is soothing and relaxing while stimulating blood circulation which helps our skin and hair maintain their elasticity, while acting against dryness.
To take care of your skin all year round but especially during winter when it needs even more hydration and care, we recommend you choose a cleansing product which will be soft and will help your skin revive.
The Exfoliating Body Gel Wash is our proposal, a mild cleansing exfoliating product which is ideal for daily use. Some of its main benefits that make it perfect for our skin care are that it removes dead cells while deeply moisturizing it. This way, it achieves the cleansing of the skin at the same time without drying it, but on the contrary, helps it become stimulated, smooth and shiny. Combined with the lukewarm water, it will provide you with the most hydrated and healthy skin you've ever had.
Of course, after a warm shower and our skin's cleansing, it is necessary to hydrate it, so as to "lock" and protect it, helping it keep its good moisture. The Firming Body Oil is an oil that contains organic soothing oils such as Calendula, which helps in better blood circulation, in reduction of the appearance of varicose veins and in restoring skin's elasticity and firmness. It achieves immediate and deep hydration of the skin, toning the skin at its core, protecting it and helping the regeneration of cells that make the skin look smooth, radiant and healthy.
We have created unique packages and offers that include the two products together, in order to ensure you get the complete body care package at the most affordable price! You can get both products together – The Exfoliating Body Gel Wash in 300ml and The Firming Body Oil in 150ml, from €75 to €59 or in their perfect Secret Santa version, in 80ml and 50ml packages, from €29 to €25.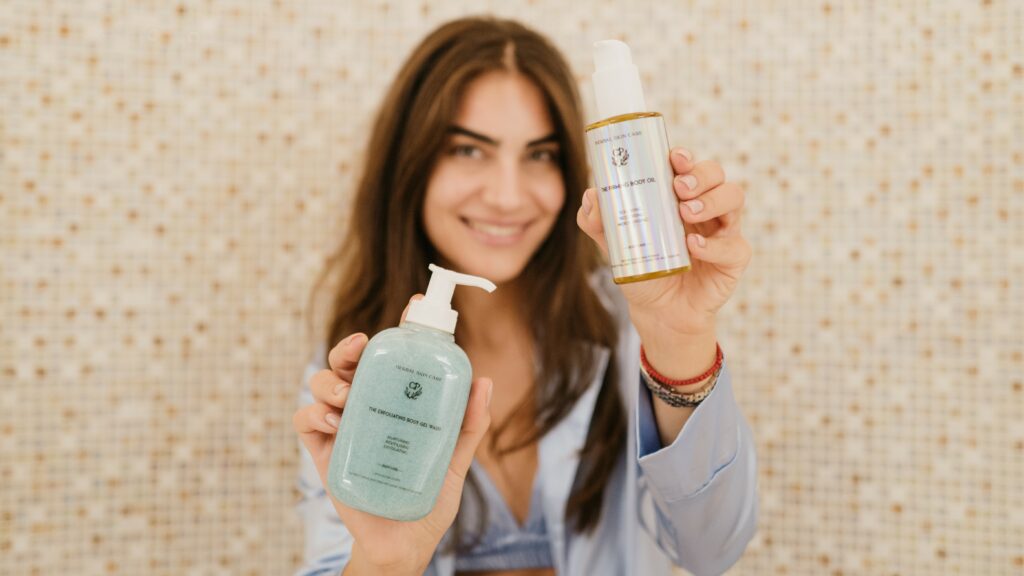 Now that our skin needs it more than ever, we've made sure to offer you our products with great discounts and great Christmas packaging for you and your loved ones to enjoy!
With Love,
CP Herbalist Team